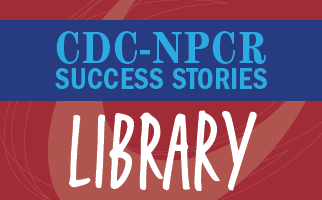 CDC-NPCR Success Stories Library
The CDC-NPCR Success Stories showcase how cancer registry data are used to improve public health. To ensure these stories are preserved and available as a resource to central registries and a wider audience, NCRA created this Success Stories Library. Learn how cancer registry data inform clinicians, public health departments, and researchers to advance cancer diagnosis and treatment.
The CDC-funded National Program of Cancer Registries (NPCR) is a population-based surveillance system of cancer registries established in 1992. NPCR supports the collection of high-quality data by central cancer registries through funding, technical assistance, and the development of software for collecting and processing data. Through NPCR, CDC supports central cancer registries in 46 states, the District of Columbia, Puerto Rico, the U.S. Pacific Island Jurisdictions, and the U.S. Virgin Islands. Learn more about NPCR, including accessing the U.S. Cancer Statistics Data Visualizations Tool, at https://www.cdc.gov/cancer/npcr/.
The Success Stories are broken into five categories, Collaboration, Data & Reporting, Public Health Impact, Registry Operations, and Education & Training and then by year. Choose a category by clicking on a tab below and then view stories by year. To earn CE credit for viewing the Success Stories, check out the CDC-NPCR Success Story Quizzes.